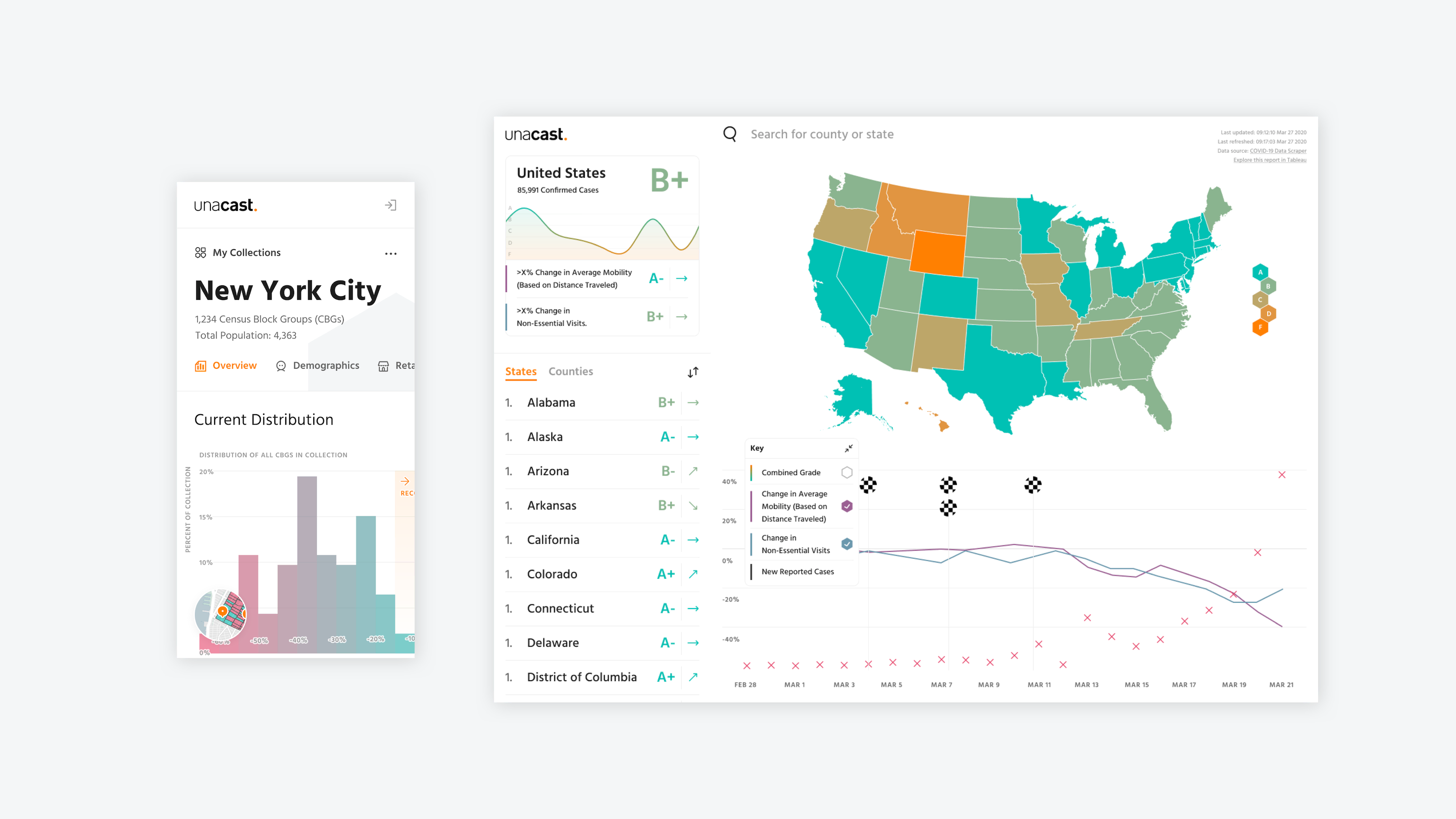 Unacast is a company founded by the former co-founders of TIDAL Music, whose goal is to provide valuable insights to customers based on aggregated positional data from cell phones. When I first joined Unacast, consulting as Senior Product Designer, my team's goal was to design and build a tool that would provide glaceable insights into any neighborhood for property investment managers across the United States. After working diligently on this tool for a total of two weeks, COVID-19 forced us to scratch everything and start completely fresh.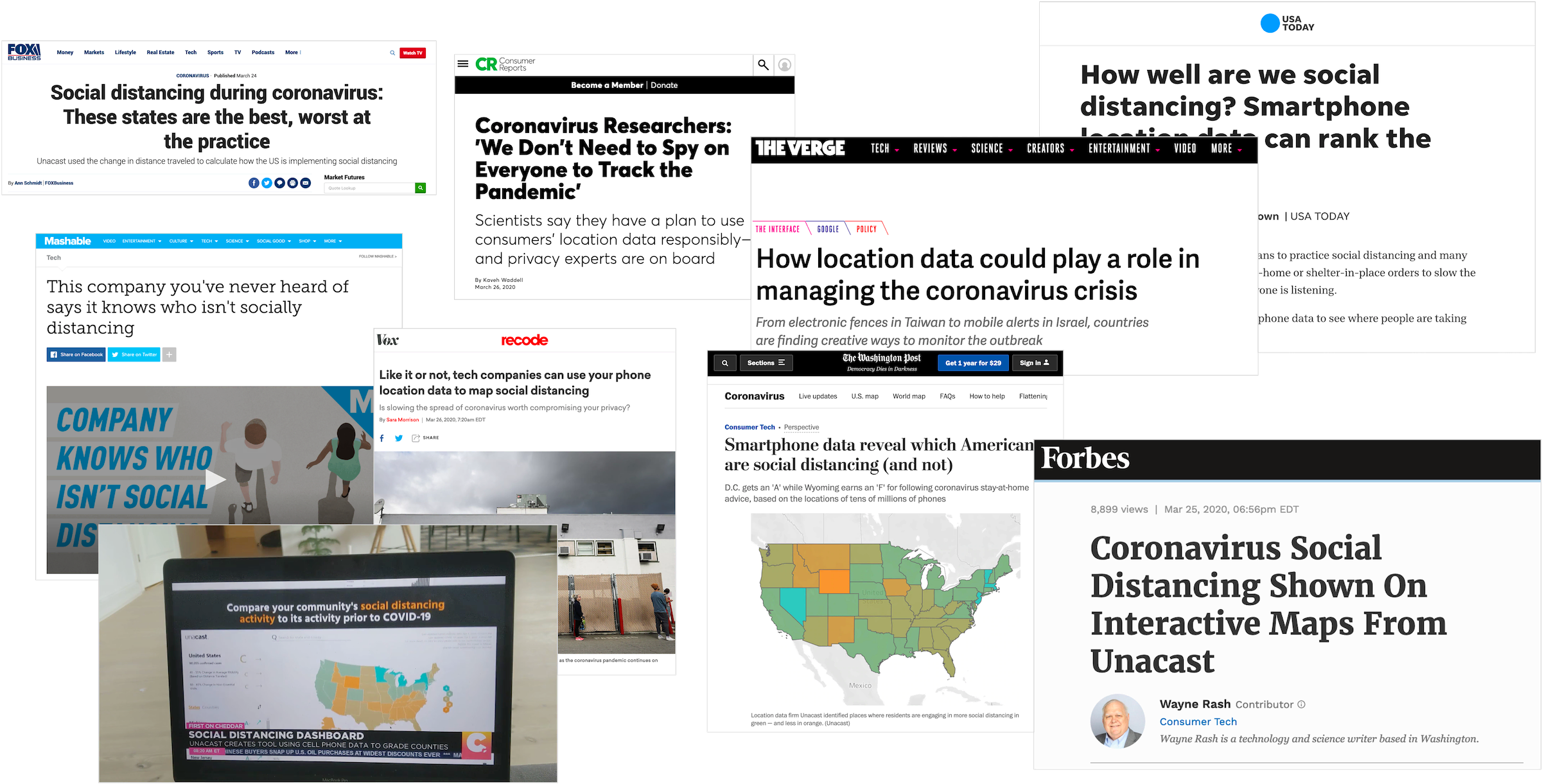 Our team of 3 developers, a project manager, and I pivoted from building this prosepecting tool to designing and developing a social distancing scoreboard over the course of four days. The ability to view and compare the grade of any state or county within the United States grabbed the media by storm, drawing over 3 million visits over the next two weeks, as well as over 150 unique articles, including USA Today, Forbes, Fox Business, Consumer Reports, Politico, Mashable, Washington Post, Wall Street Journal, Vox, Chicago Tribune, The Verge, and several TV spots. The coverage eventually generated over 700 new sales leads for Unacast and counting, including emails from the White House. You can check out the scoreboard here:
With the success of the Social Distancing Scoreboard behind us, Unacast wanted to "own recovery like we owned social distancing," referring to the recovery of the retail industry. Unacast wanted us to build yet another dashboard -this time in an effort to convert the media attention into paying customers. The concept had to feature the ability to create and watch the changing foot traffic patterns and medium income in user-designated neighborhoods. However, no one seemed to know what metrics to include in this dashboard! Market research said it had to exist, and so exist it had to.
I was designing iteration after iteration without knowing what the final metrics would look like, or fully understanding what was even possible to achieve with Unacast's dataset. The developers in my team didn't know either, and so we ended up relying heavily on each other to push what we had of the concept forward.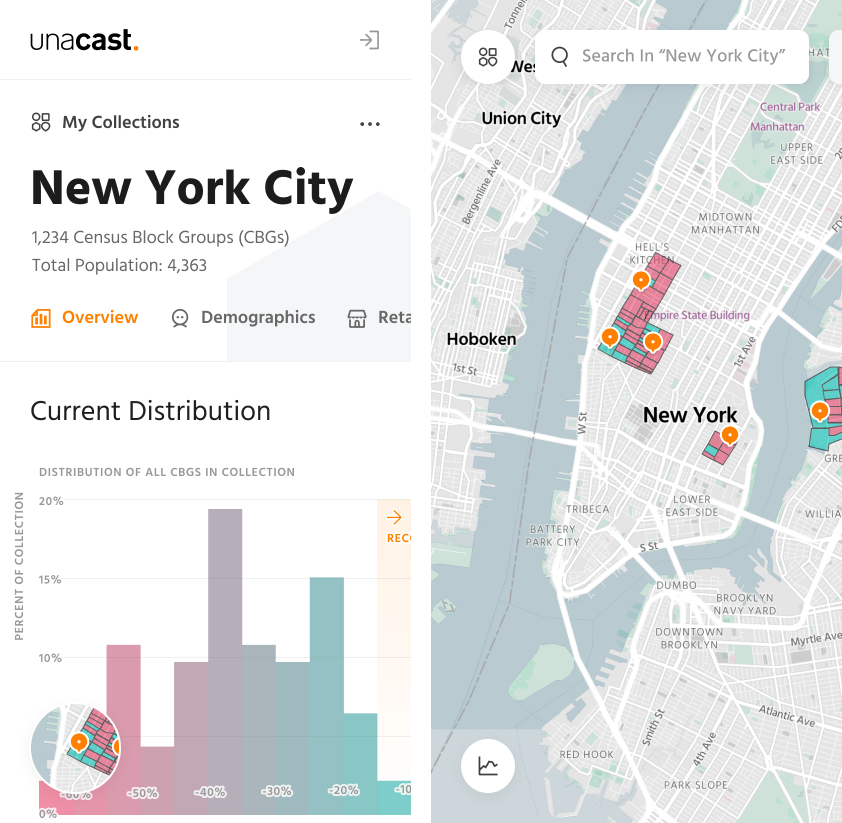 Eventually, we managed to annex a data scientist from another internal team and began to crystallize our metrics. As I rounded off my contract with Unacast, the company soft-launched the new Neighborhood Insights Tool, as seen here: